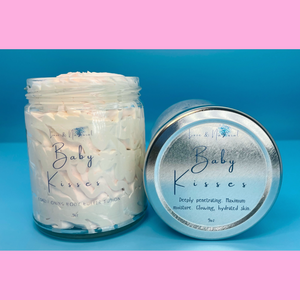 Baby Kisses
Regular price
Sale price
$3.75
---
What's not to love about baby powder?!? One whiff will remind you of a soft, gentle, kiss on the cheek of a newborn. This one is adored by all...men, women and children too!
Level up on your skincare with our Conditioning Body Butter Fusions! Formulated with a decadent combination of 4 rich nutrient-filled butters and skin nourishing oils known to help smooth blemishes, lighten stretch marks and soften skin...Fused together and whipped to perfection! Our best selling butter fusions are made to deeply penetrate and easily absorb, leaving your skin with maximum moisture without leaving behind a greasy residue. A little goes a long way so you only need a dime-sized amount to keep your skin feeling soft & supple while smelling oh so delicious! 
INGREDIENTS:
Pure unrefined kokum, mango, cocoa and shea butters; behentrimonium methosulfate (sulfate-free, naturally derived plant-based conditioning wax); cetyl alcohol (plant-based emollient); arrowroot powder; organic oils of babassu, sunflower, coconut, avocado, jojoba, argan and vitamin E; fragrance oil and natural micas
About Your Conditioning Body Butter Fusions:
We take multiple measures to reduce the possibility of melting butters during transit in the warmer months. If a butter does melt, please refrigerate for 1-3 hours or until it returns to its natural form & continue use. Due to our body butter being whipped, when melted they may appear half
***Unfamiliar Ingredients***
Behentrimonium Methosulfate, or BTMS-25 is a natural sulfate-free, conditioning emulsifying wax derived from Colza oil. It will give creams and lotions a powdery, soft feel, plus good conditioning properties.
Cetyl Alcohol: An organic compound derived from coconut, palm, or vegetable oil. An emollient with the ability to soften & reduce rough, dry skin & provide a layer of protection that helps prevent water loss.
Arrowroot Powder: An all-natural silky white powder containing many beneficial minerals and vitamins. Improves skin texture, condition skin, reduce oiliness, and also bring a natural glow to complexion.
NO sulphates, NO parabens, NO phthalates, NO mineral oil, No petrolatum, NO animal testing

Jars are hand-packed or hand-piped and come in volumes of 1oz sample jars,  6.5oz and 9oz jars

Body Butter Fusions are handcrafted in small batches for higher quality, so design and color may be slightly different

Thoroughly rub dime-sized amount into damp or dry skin to experience hydrated and glowing skin

For external use only - do not eat