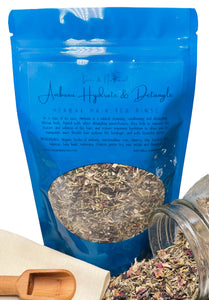 Ambunu Hydrate & Detangle
Regular price
Sale price
$20.00
---
In a class of its own, Ambunu is a natural cleansing, conditioning and detangling African herb. Paired with other detangling powerhouses, they help to improve the texture and softness of the hair, and restore maximum hydration to allow you to manipulate more flexible hair without the breakage, and with beautiful sheen. 
***Great for all hair types! Use this herbal hair tea as a detangling pre-poo, as a rinse out or leave-in additional conditioning tea, as a deep conditioner, and even as an every couple days hair refresher/rehydrating spray. Free of parabens, sulfates, alcohols, phthalates and color-safe
INGREDIENTS:
Organic herbs of ambunu, marshmallow root, slippery elm, burdock root, hibiscus, holy basil, rosemary, Chinese green tea, rose petals and flaxseed
Ingredient Highlights:

Ambunu, Marshmallow Root, Slippery Elm, Burdock Root, Hibiscus and Flaxseed: These herbs are all incredibly hydrating and rich in mucilage that gives slip to help detangle, moisturize and condition the hair.
Holy Basil: Rich in magnesium which helps protect the hair from breakage; adds luster shine to dull, lifeless hair.
Rosemary: Increases hair's manageability while adding shine and luster; helps to condition the scalp and hair and encourages hair growth.
Chinese Green Tea: Contains vitamin B which is a potent hydrating agent that moisturizes the hair.
Rose Petals: Packed with vitamins that nourish the scalp, stimulate hair follicles, and promote healthy hair growth.
About Your Herbal Hair Tea Rinse:
1 bag contains over 1 cup of tea, enough for at least 4-5 hair rinses

Reusable cotton muslin bag and wooden mini scoop included!

For external use only
HOW TO USE: 
Fill muslin bag with 3 heaping tablespoons

 or up to 1/4 cup of herbs

Pour 1 to 2 cups of boiling water over herbal bag and steep for at least 30 minutes covered. For a more potent infusion, allow herbal water to steep overnight. To yield a thicker mucilage for detangling, place loose herbs in a pot of boiling water and boil, covered for 15-20 minutes.
Strain herbal tea when it's not too hot
Entire Head Rinse:

Slowly pour tea over wet head and massage the infusion into your scalp and hair

Catch the liquid in a large reapply several times

Gently rinse out with cool water or for extra conditioning, leave it in and T-shirt dry hair

Finger detangle or use a detangling hair brush from ends to roots

Spray Bottle:

To use as a conditioner, pour tea into spray bottle and spray on freshly washed and sectioned hair, then proceed to detangle

Do not rinse out, just style as usual

For a quick refresh, spray tea on hair to rehydrate, condition and refresh curls throughout the week
Refrigerate any leftover hair tea for 7-10 days in a nonreactive container and discard after that.